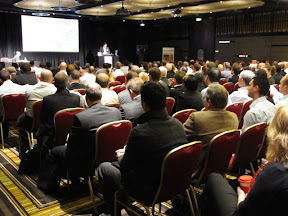 I am in Perth this week for the 2-day Metplant 2012, organised by the AusIMM.
I arrived just after midnight on Saturday morning, and had a leisurely weekend, including a pleasant pub lunch yesterday with the Maelgwyn Mineral Services team.
It is only 2 months ago since my last visit, but prices here have continued to rise to crazy heights. On Saturday night I ate at an Indian Restaurant, but was staggered by the bill of AUD57 (£38) for a curry and a small beer, roughly twice what I would expect to pay in UK.
But enough of the whinging pom. Metplant got off to a fine start this morning, with a high turnout. MEI is the media sponsor, and my conference diary will be published on the blog at the end of the week.