I arrived in Seattle yesterday evening for the SME Annual Meeting which starts in earnest tomorrow.
After a very brief sleep due to the 8 hour time difference, I was up and about at two o'clock this morning, and after a very early breakfast strolled down to the Washington State Convention Centre, to register at 7am!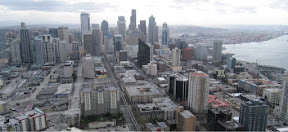 The best way to explore a new city is on foot, so this morning I had a five mile circular walk, down to the Pike Place Market, home of the first Starbucks coffee store, then along the not very inspiring Waterfront, a trip up to the 160m high observation deck of the Space Needle, and back to downtown for a coffee in one of the many Starbucks.
I managed to spot a couple of mineral processors on my travels,
Dave Wiseman
of Limn - the Flowsheet Processor, and
Robert Bratton
, of Virginia Polytechnic Institute (left in photo). Dave will be in Falmouth next year, as sponsor of
Physical Separation '13
.
After a late lunch it was back to the Convention Centre for the first reception, the opening of the exhibition.
I will be posting my report on the SME Meeting at the end of the week.