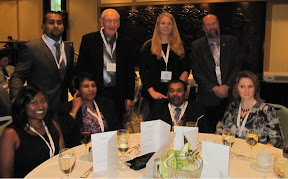 I have just attended an excellent celebratory lunch in Montreal, honouring the life and work of Laurentian University's Prof. Laxman (Lucky) Amaratunga. A very entertaining Master of Ceremonies at the lunch was Prof. Jim Finch, from nearby McGill University. In the photo are (back row) Lucky's son Ruwan, Michael Sudbury of M.P. Sudbury Consultants, Janice Zinck of CANMET, Jim Finch, and (front row) Lucky's daughter Amanda, wife Nan, Lucky and his carer Laura Turcott.
In 2005 Lucky was diagnosed with a neuro-muscular disease, which has forced him to use a motorised wheel chair for mobility. He has refused to be defeated by the handicap and has carried on his full teaching load and continues research, this time in a new area of research, developing a novel nanotechnology gold extraction process, which was presented at a paper today at the World Gold conference.
Lucky was born in Sri Lanka and graduated in Physical Science at the University of Ceylon in 1969. He and his wife Nan then moved to the UK where he graduated at the Camborne School of Mines in 1974 with a first class honours degree in Mining Engineering. He then moved to the University of Birmingham where he obtained a PhD in mineral procesing in 1978. He then became a research fellow at Birmingham from 1978 to 1980, after which he and Nan emigrated to Canada, where he was a research associate at the University of Toronto. In 1984 he joined Laurentian University and became a full professor in 1993.
He is an active member of CIM and in 1997 was awarded the prestigious CIM Fellowship for his outstanding contributions to the CIM and CMP, and was awarded the CIM Distinguished Lecturer for 1999-2000.
The full and productive life and career of Laxman Amaratunga, his high level of technical competence, keen interest and enthusiasm on matters of environmental concern, especially in the mining industry, social responsibility, courage and determination to face adversities and challenges, cordial and cooperative relationship with students and professional colleagues and a happy family life all combine to make him a role model for the younger students and researchers who will follow him in the years to come.